Rare Bianchi Rollo Bike
---
Description
Bianchi Rollo – in almost new
condition. The tires still have the
ridges down the middle of them.
And yes we have the Clown horn on the
handle bars, and the flashing or
contstant on, 9 led red light under the
seat, light that is so cool, it will flash lights in both directions simultaneously like the the Trans Am hood lights on the TV show Knight Rider used to.
I can't believe they never made these for all
bikes. crazy would sell a million.

Anyway a very rare, super light
weight, ridden very little and
completely complete right down to the
carbon fiber fenders and Truvativ
cranks. PS The pedals are a lightweight
alloy, not the rubber ones mentioned in the
specs. Mine is an 18.5 inch frame, and according to one of the reviews it fits people in a wider range than a normal bike with an 18.5 inch measurement.
I put a link here to a bike review
page which shows all the specs of the
bike and several reviews of it by
actual owners. If the linkdoesn't work put Rollo Bianchi reviews in the search window on google and it will come up, roadbike review is one of the pages that gives alot of info and also some peoples real stories of how they use theirs and how they like the Rollo, kind of amazing no one makes anything like it to this day for anywhere near the price it sold for.
I am in Sarasota Fl. and if you want
it shipped I will disassemble it and
take it to the UPS store here or to
what ever shipper you wish. For a
small amount to cover time and
gas…say $25.00
I think it would UPS in 3 cartons
pretty easly.. thanks email me or call
941 377 2462……
http://www.roadbikereview.com/cat/late
st-bikes/hybrid-
bike/bianchi/rollo/prd_290988_5672crx.
aspx
Bicycle Type
City/commuter
Colors
Kandy Apple Green
Item ID
11586
Frame & Fork
Frame Construction
TIG-welded
Frame Tubing Material
7005 Aluminum
Fork Brand & Model
Bianchi
Fork Material
Chromoly, unicrown crown
Components
Single Speed
Not applicable
Brakeset
Aluminum linear-pull brakes, aluminum
linear-pull levers
Shift Levers
Not applicable
Front Derailleur
Not applicable
Rear Derailleur
Not applicable
Crankset
SR, 42 teeth
Pedals
Wellgo platform
Bottom Bracket
Truvativ cartridge
BB Shell Width
Unspecified
Rear Cogs
1-speed, 18 teeth
Chain
KMC
Seatpost
Kalloy alloy, 27.2mm diameter
Saddle
Bianchi Viscount with flashing LED
light
Handlebar
HL
Handlebar Extensions
Not included
Handlebar Stem
Steel
Headset
1 1/8" threaded VP
Wheels
Hubs
Aluminum
Rims
Alex Y200, 36-hole
Tires
26 × 1.50″ Kenda Kwest
Spoke Brand
Unspecified
Spoke Nipples
Unspecified
Price

$250.00

In Stock

1 Available

Tax

0.0%

Shipping

0.00
Details
Product

Complete Bikes

Type

NA

Manufacturer

Bianchi

Condition

Used

Frame Size

47 cm

Wheel Size

26 inch

Drive Train

Truvativ Single Speed

Other parts and accessories

http://www.roadbikereview.com/cat/late stbikes/hybridbike/bianchi/rollo/prd_290988_5672crx.aspx Bicycle Type City/commuter MSRP (new) Weight Unspecified Sizes 16.5", 18.5", 20", 22", step-through 16.5", step-through 19.5" Colors Kandy Apple Green Item ID 11586 Frame & Fork Frame Construction TIG-welded Frame Tubing Material 7005 Aluminum Fork Brand & Model Bianchi Fork Material Chromoly, unicrown crown Rear Shock Not applicable Components Component Group Not applicable Brakeset Aluminum linear-pull brakes, aluminum linear-pull levers Shift Levers Not applicable Front Derailleur Not applicable Rear Derailleur Not applicable Crankset SR, 42 teeth Pedals Wellgo platform Bottom Bracket Truvativ cartridge BB Shell Width Unspecified Rear Cogs 1-speed, 18 teeth Chain KMC Seatpost Kalloy alloy, 27.2mm diameter Saddle Bianchi Viscount with flashing LED light Handlebar HL Handlebar Extensions Not included Handlebar Stem Steel Headset 1 1/8" threaded VP Wheels Hubs Aluminum Rims Alex Y200, 36-hole Tires 26 x 1.50" Kenda Kwest Spoke Brand Unspecified Spoke Nipples Unspecified
Seller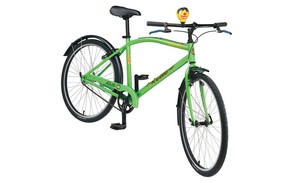 Recent Stream
More listings from this seller
No other products from the seller
Similar listings from other sellers
$230.00
pedalr News
Sign up for here for regular updates on the latest cool new sellers and additions to pedalr.