Medium Zero Messenger - Steel/Light Pink

---
Description
The ZERO is specially designed to optimize fabric cutting and eliminate manufacturing waste. The bag is made from scratch in Rickshaw's San Francisco factory using domestically sourced materials shortening the raw material supply chain and reducing its ecological footprint. To facilitate recycling, the bag is made entirely of nylon. A powerhouse of versatility, this bag triples as a workday commuter, overnight attaché, or large market sack. The result is elegantly simple and functional.
-Holds up to a 13" laptop
-External dimensions: 11" H x 19" W x 6" D
-Durable nylon inside and out
-Quick-adjust cam shoulder strap
-D-ring for cross strap and other gear
-Lightweight construction – forms to your body
-Versatile velcro accessory system
-Built when you order it, in SF
Seller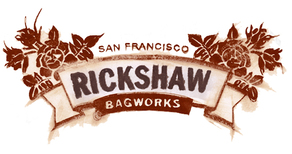 Rickshaw is inspired by the creative energy of SF, urban cycling and an intense desire to make great products. We are part of your human ...
Recent Stream
More listings from this seller
$75.00
$75.00
$75.00
Similar listings from other sellers
$64.95
$19.00
pedalr News
Sign up for here for regular updates on the latest cool new sellers and additions to pedalr.