iPad 2 Bag- Earl Grey Tweed

---
Description
The iPad 2 Bag by Rickshaw. Perfect to port your digital life.
• Perfectly sized to hold an iPad or iPad 2
• Dedicated pocket to hold iPad naked, or while in a horizontal sleeve.
• Padded bottom and front pocket for all around protection
• Quick adjust cam on slim strap for sleek profile, comfort and ease
• Two front slots for several pens or keys
• D-ring for cross strap, keys or water bottle
• Large rear compartment for files, a sweater, good book and folio
• Sleek square profile for urban or professional appeal.
• Rickshaw Performance Tweed from 100% recycled PET fabric
• Made from scratch in San Francisco
Specs:
10"H x 11.25"W x 3.75"D
1.0lb weight
Seller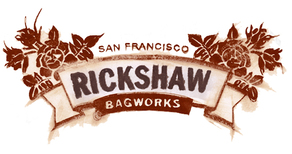 Rickshaw is inspired by the creative energy of SF, urban cycling and an intense desire to make great products. We are part of your human ...
Recent Stream
More listings from this seller
$75.00
$75.00
Similar listings from other sellers
$64.95
$19.00
pedalr News
Sign up for here for regular updates on the latest cool new sellers and additions to pedalr.