For shoppers
Browse Listings
Shop for new, used or rebuilt bikes,
parts, accessories, local or nationwide
Meet Sellers
Meet pedalr sellers, find out where
they are and what they are into and
subscribe to their stream
Save Favorites
When you find something you like add
it to favorites until you are ready to buy
For sellers
List what you have for sale
List new, used or rebuilt bikes, parts,
accessories or apparel
Create a simple profile
Create a simple profile, add a photo
and links to your website, blog or twitter
stream
Manage listings and sales
Manage and update what you have for
sale, listings on pedalr are persistent
meaning they stay up til they sell or you
take them down.
Want to know more about pedalr?
Featured listings
Featured pedalrs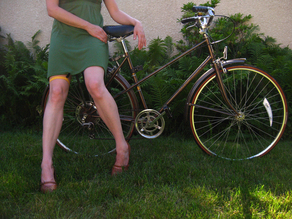 I'm a bike commuter in Minneapolis. I like to wear skirts. Necessity (or is it fashion?) is the mother of invention.
People are Handsome. We make their bicycles.